Healing Allantoin – Nature's best kept secret!
Blog
|
27 Mar 2021
BE KIND TO YOUR SKIN by using PLANTS instead of chemicals.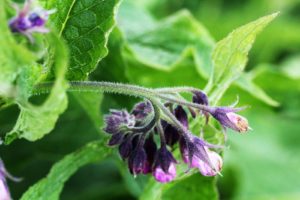 The Allantoin plant is one of nature's most effective healers. It is related to the Comfrey plant and is used to help troubled skin, or irritated skin, as well as having calming and soothing properties.
Skin gets aggressed all the time with day to day pollution and oxidants as well as weather, be it cold and windy, biting frost and snow as well as too much sun, so to have an ingredient such as Allantoin in your daily skincare has got to be the right solution.
We use this plant in our Orange Skin Food and in our Juniperberry Cleanser and Toner.
Allantoin is one of nature's best kept secrets but is rapidly becoming better known as more and more formulators turn to it for results to be used on a daily basis. Most skin at some point has a bad patch – either dry or crusty, spots or pimples, open pores, red veins all sorts of things. In an age when everyone wants instant results, the temptation is to put something on that would in effect mask the problem. Allantoin would get to the bottom of what's going on and start the healing process from within.
With it in your daily skincare whilst you cleanse and moisturise each day, it will definitely help to reduce these problems.
Be kind to your skin – use nature's plants instead of chemicals!