The benefits of Maca Root – Peruvian Ginseng
Blog
|
09 Dec 2020
I tried really hard to find a picture of MACA ROOT that looked inviting, interesting, romantic, or delicate. but no, even out of focus it just looks like an old turnip!
But, I have to write about it because it is a sensational ingredient, renowned for being anti-ageing, thanks to its concentration of peptides and sugars that stimulate cellular renewal.
In a four week clinical trial it reduced wrinkles and laughter lines (crow's feet) by 38% and also had improved skins radiance by 35%.
This is all really important for mature or just tired skin.
I like my laughter lines but I also don't mind at all, if they can be reduced, even by just a little bit!
The grade of Maca we use is preservative free and certified by Ecocert Greenlife.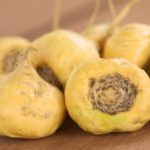 MACA ROOT IS JUST ONE OF THE SPECIAL INGREDIENTS IN OUR EDELWEISS FACIAL RESCUE.