Papaya enzymes – INSTANT MAGIC!
Blog
|
22 Jun 2021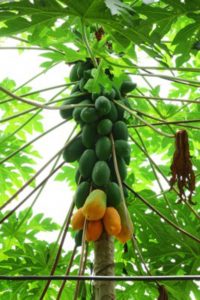 " My words cannot possibly articulate what I want to say about your products ! 
That Exfoliator…WOWZERS…and as for the Oil – DIVINE".
Katie – Somerset.
So many people I meet say they really cant be bothered with exfoliator or masks, they find it messy, time consuming and is it really necessary?
The fact is that we lose a layer of skin every 7 – 10 days, there will always be dead skin cells on your face, ready to be removed and dead skin cells will prevent your moisturiser, Serum and /or Oil absorbing completely and evenly…it simply can't get through!
If you were an artist, would you start your painting on an uneven canvas?
We have made our Rosehip seed exfoliating product really easy to use
Having spread it on your face you just leave it for 4 -10 mins, this lets all the Oils and the Madonna Lily soak in and allows the PAPAYA ENZYMES to lift the dead skin cells.
You can then rinse  –  and as you wash it off, the rosehip seeds gather up all the dead cells, leaving your skin smoother, brighter, younger. You really do have INSTANT VISIBLE RESULTS with the added bonus of the Madonna Lily that not only reduces sun damage but reverses it as well.