The anti-ageing power of Himalayan Edelweiss plant cells
Blog
|
12 Jan 2021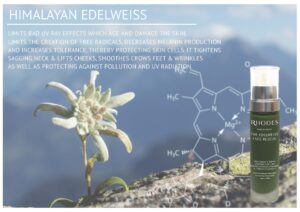 The anti-ageing power of HIMALAYAN EDELWEISS plant cells
The HIMALAYAN EDELWEISS (Leontopodium Alpinium) is a rare and strictly protected herbaceous plant. It grows and flowers on mountain ranges above 6000 feet, from the Pyrenees, the Alps to the Himalayas, whilst being battered by every extreme weather front that Mother Nature can throw at it. Her survival earned her the title  –  QUEEN OF THE MOUNTAIN.
What does this mean for your skin
In her cellular composition she has an extremely efficient protection system, essential to thrive and survive adverse environmental stresses, air pollution and UV radiation.
Thanks to the latest Plant Cell Technology and only using 2 x millimetre of leaf or root, an entire crop can be cultivated, their cells extracted in a laboratory, using no fertiliser, no soil, minimum water, no oxidation in a totally clean environment, 100% sustainable and without any adverse impact on the plant
This technology ensures that all the benefits of the Edelweiss to protect the ageing oxidation of your skin are retained.
Vitamin C is often used to protect against free radicals and pollutants, but Edelweiss has more than twice the power

These cells that are added to our formulation also re-create skin tension, which in turn tightens sagging cheeks and smooths out laughter lines (crow's feet!)
Clinically proven to reduce the appearance of fine lines and wrinkles after usage for 20 days
A natural anti inflammatory
Clinically proven to radically increase skins luminosity
The combination of Avocado and Olive Oils, for soft smooth skin, Summer Snowflake for regeneration, Maca Root for skin renewal and radiance, and finally Hyaluronate and Evening Primrose for maximum hydration are combined to give you…
THE EDELWEISS FACE RESCUE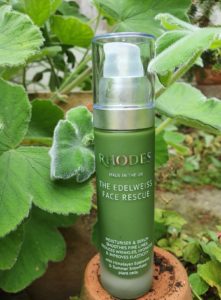 Who wouldn't want to have all these benefits in just one product?
Click here to view The Edelweiss Face Rescue