Rhodes Skincare are pleased to announce that we won at the Natural Health & Beauty Awards 2022 for three of our products. Here is what the judges had to say…
"I absolutely LOVED this series! The branding is elegant, and I love the practical squeeze and pump bottles. But the best part is there is actual magic inside! The Rosehip & Madonna Lily Exfoliator Mask was incredible. It felt very exfoliating without stripping my face of moisture, and my face felt refreshed afterwards (not dry or tight like other exfoliating masks I've tried!). The Juniper Berry Toner smells amazing and it removed any residue of makeup while leaving my skin feeling soft and hydrated. The absolute star of this trio was the Edelweiss Face Rescue. I've never tried anything like it! This serum felt like actual satin on my face – it was so silky soft, smooth, and just massaging it felt like a spa experience. I'm sold. Feel like I've just had a five-star facial!"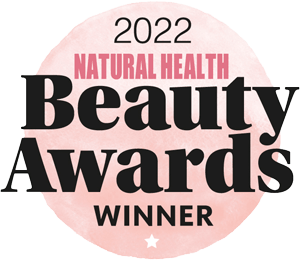 Combination product range
Our formulations have been expertly crafted to ensure they work effectively on ALL skin types – normal, dry, oily and combination. They also target the skin conditions – ageing, sensitive, congested, dehydrated and sun-damaged.
Combination Skin needs Allantoin Aloe Vera and Rose Hip for vitamins. With daily cleansing and weekly exfoliation, combination skin can be controlled.
We recommend Juniper Cleanser & Tonic and Orange Skin Food.
All our products are suitable for combination skin.
All skin types need protection against air pollution, wind and oxidization.
What product is suitable for me?
Featured ingredient
Himalayan Edelweiss
Limits bad uv ray effects which age and damage the skin. Limits the creation of free radicals, decreases melanin production and increases tolerance, thereby protecting skin cells. It tightens sagging neck & lifts cheeks, smoothes crows feet & wrinkles as well as protecting against pollution and uv radiation.